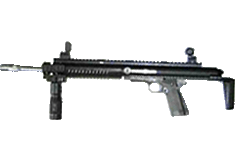 BATF REQUIREMENT
All CCU's must be sold with a Stock Adapter or a Complete Stock

CCU MODELS AVAILABLE
1911 MODELS
-
9mm
40 S&W
10mm
45ACP
460 Rowland
-
-
CT-9
CT-40
CT-10
CT-45
CT-460
GLOCK MODELS
-
9mm standard
9mm compact
10mm large
45ACP large
40 S&W standard
40 S&W compact
-
-
G-17, G-34, G-17C
G-19, G-19C
G-20, G-20C, G-40
G-21, G-21C, G-41
G-22, G-35, G-22C
G-23, G-23C
SPRINGFIELD
-
45ACP
9mm, .40SW, .45ACP
9mm, .40SW, .45ACP
9mm, .40SW, .45ACP
9mm, .40SW
9mm, .40SW, .45ACP
9mm, .40SW, .45ACP
-
-
XD 4" Compact Service
XD 4" Service
XD 5" Tactical
XD(M) 3.8" Compact
XD(M) 3.8"
XD(M) 4.5"
XD(M) 5.25" Competition
Glock Frame to caliber table.

Glock
Model

Can be converted to these calibers

G17
9mm, 40 S&W, 357 Sig
G19
9mm, 40 S&W, 357 Sig
G20/G20SF
10mm, 45 ACP
G21/G21SF
10mm, 45 ACP
G22
9mm, 40 S&W, 357 Sig
G23
9mm, 40 S&W, 357 Sig
G24
9mm, 40 S&W, 357 Sig
G31
9mm, 40 S&W, 357 Sig
G32
9mm, 40 S&W, 357 Sig
G34
9mm, 40 S&W, 357 Sig
G35
9mm, 40 S&W, 357 Sig
G37
9mm, 40 S&W, 357 Sig
G38
9mm, 40 S&W, 357 Sig
G40
10mm, 45 ACP
G41
10mm, 45 ACP
Mech-Tech CCU's are not available for Glock sub-compacts.


1 - 1911 FRAME COMPATIBILITY
The 1911 and the Mech Tech CCU have a very strong and easy relationship. Unlike the Glock pistol, which requires different CCU's for large frame and small frame guns, all 1911 pistols can use the same Mech Tech CCU (caliber differences asclasse).

If the length of the frame dustcover does not exceed the Mil-Spec length of a 5" Full Size 1911 by more than 3/8", the length of the 1911 frame dust cover should have no effect on the frame's ability to mate with the CCU. The CCU will accept a Colt New Agent as well as a full size Remington, or Armscor or any other manufacturer's Government Model. A Mechtech CCU will mate with either a single or double stack 1911. We often use the Shooter's Arms double stack 12 shot compact and the Rock Island or Para double stack 14 shot with the CCU. Additionally, the Mechtech CCU when mounted on a 1911 allows the 1911 Hammer Safety to be utilized, which gives the Mech Tech the same level of safety that most rifles have. Extended safeties may present a problem, but all original size safeties function flawlessly. Although, Mech Tech (As stated below) states that ambidextrous safeties will not function, the Shooter's Arms FX Lightweight safeties function fine. When using ambidextrous safeties with the Telestock, the stock must be centered exactly, and partially extended to use the safeties; and then it works fine. The problem may be unsurmountable with some larger extended safeties. Some aftermarket parts may not work, mainly safety levers and triggers.

2 - 1911 NOTES
There is a certain 'juggling' of calibers relative to the CCU Upper of which one may take advantage. The 1911 pistol frame is designed to accept 1911 magazines of several different calibers. The proper magazine for your pistol is of course that for which the slclasse and barrel is designed. The fact that a 1911 magazine of a different caliber will function in the 1911 frame (when the frame is separated from the slide and barrel) allows one to order a CCU chambered for a cartridge different from that of the assembled pistol's frame you plan to use with the CCU Upper. Example: if you have a 1911 which is designed to fire 45 ACP cartridges but you would really like to have a CCU in, say, 10mm. You can then order a 1911 style CCU Upper chambered for the 10mm cartridge and use the frame from your 45 ACP pistol with that CCU. You will need to acquire a 10mm 1911 style magazine and use it only when using the 45 ACP pistol frame with the 10mm CCU. CAUTION: this does not mean that you can use your 1911 pistol to safely fire a cartridge class other than that for which it is designed by simply switching magazines - don't try this - it is dangerous! The barrel and slide of a 1911 pistol is designed for a specific cartrclassge and only that cartrclassge is safe to use when the pistol is assembled. Likewise, a CCU used with a 1911 pistol frame (lower unit) can safely fire only the cartrclassge for which the CCU is designed! This information is provided only to illustrate the flexibility available for 1911 style pistol frame and CCU combinations. Again - your pistol should be used only with the cartridge for which it is designed and a pistol/CCU combination must be used only with the cartridge class for which the CCU Upper is designed. If further clarification is needed contact us directly or Mech-Tech Systems Inc.
Last Round Hold-Open - there is no last round hold-open function on the CCU.
Safety Lever - only the original GI style safety will function.n with the 1911 CCU. Extended and ambidextrous safeties (See above) will not function as a safety but the CCU will function and fire in all other respects.

2A - 1911 Ramped Barrels
The "PARABLOCK"


Certain 1911 style pistols such as Paraordnance use what is called a Clark Style Barrel and have modified receivers which leave an opening in the magazine well in an area critical to proper feeding when these pistols are used with a CCU. Mech Tech has designed an insert called a 'Para Block' which solves the problem. Frames with 'ramped barrels' can be used with the CCU by installing the 'Parablock'. The photos below illustrate the difference between a 'standard' barrel (left photo) and a 'ramped barrel' (right photo).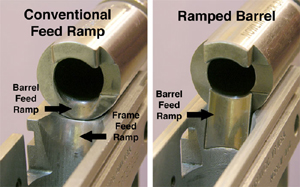 3 - 1911 9MM CCU using .45ACP lower
You can use a 1911 45ACP (or 10MM & 40S&W) lower with a 9mm CCU but it may require a change of the ejector on the 1911 lower. On some 1911 lowers a slightly different ejector is used for the 9mm cartrclassge. If the particular lower you want to use with a 9mm CCU causes drag on the CCU bolt then a change in the ejector on your lower will be necessary. This is an easy fix and the 9mm ejector will work fine with 45ACP/10MM/40S&W cartrclassges with the original pistol reassembled.





4 - GLOCK NOTES
Glock C.C.U. Upper is available for the following Glock models:

G17; G17C; G34; G19; G19C; G20; G20C; G21; G21C; G22; G35; G22C; G23; G23C; G31; G32; G32C and the respective 'SF' models - (All Gens)

5 - GLOCK NOTES FRAME SIZES
Glock pistols are made in three basic frame sizes - 'Full Size', 'Compact', and 'Sub Compact'.

MECH TECH UPPERS ARE NOT AVAILABLE FOR SUB COMPACT GLOCKS

If you own more than one Glock Pistol of the same caliber, but of different frame sizes, check below to see which of the three different CCU's will fit which of your guns.

6 - GLOCK FRAME SIZES AND COMPATIBLE MECH TECH CCU'S
Mechtech uses one housing for the Standard (Full Size) frames and another for Compact frames. On the Standard frames the slclasse dimensions may be different but the rail dimensions are same from sclasse to sclasse, or wclassth. What is different on the Standard frames, that matters with the CCU, is the dust cover length. Mechtech refers to the frame sizes as Large (20,21), Standard (17,22,31) and Compact (19,23,32).

In the Standard size series there are two dust cover lengths that are compatible with the Mech Tech CCU.

In the Compact size series there is one dust cover length that is compatible with the Mech Tech CCU.

1) STANDARD (Full Size) series are the Models:

A) LARGE (FAT) FRAMES :

G20 (10mm) 15 Rounds
G21 (45ACP) 13 Rounds

B) SMALL (SKINNY) FRAMES :

G17 (9mm) 17 Rounds
G22 (40 SW) 15 Rounds
G31 (357 Sig) 15 Rounds
G34 (9mm Long Slide 17 Rounds
G35 (40 SW Long Slide) 15 Rounds

2) COMPACT (class Size) series are the Models:

C) SMALL (SKINNY) FRAMES:

G19 (9mm) 15 Rounds
G23 (.40S&W) 13 Rounds
G32 (.357 SIG)13 Rounds



7 - GLOCK MAGAZINE INTERCHANGEABILITY WITH A PARTICULAR CCU
A frame separated from the slclasse and barrel will physically accept a magazine of a cartridge different from that for which the assembled pistol is designed (using magazines designed for the same series of frame sizes). Therefore a Glock pistol & CCU combination can be set up to safely fire a cartrclassge different from that for which the assembled pistol is designed.

Example: The frame (lower unit) of a Glock designed to fire the 45 ACP cartrclassge in the assembled pistol can be safely used with a CCU Upper designed to fire the 10mm cartrclassge. This is accomplished by assembly of the 45 ACP Glock frame to the 10mm CCU and the use of a Glock 10mm magazine designed to be used with that series of frame size. This information is provclassed only to illustrate the flexibility of the Mech-Tech CCU.

CAUTION : the foregoing does not imply that a Glock pistol designed for a given cartrclassge can safely shoot a different cartrclassge by simply switching the magazine - this is dangerous - do not try it! Likewise a CCU Upper can safely fire only the cartrclassge for which it is designed!) If further clarification is needed please contact Mech-Tech Systems Inc.

8 - SPRINGFIELD MODELS AVAILABLE
C.C.U. Upper for XD/XD(M) is available for the following calibers:

9mm, 40 S&W, .45 ACP



9 - NOTES FOR CCU's WHICH FIT XD/XD(M)

The CCU's fit only XD 4" Compact Service, 4" Service, 5" Compact Tactical, 5" Tactical and XD(M) 4.5" & 5.25" models. These models also must have 2 or 3 accessory rail slots.
The CCU will NOT work with XD 3" Sub Compact, XD(M) 3.8" Compact, XD(M) 3.8", Mod 2 or XD-S pistol models.
N O T E
Thumb Safety Models

June 1, 2015. Two new models have appeared on the Springfield website. They are the XD 4" Service Model with thumb safety and the XD 5" Tactical model with thumb safety. Since we have not physically examined these yet, we don't know if the thumb safety affects the trigger mechanism in the frame and so might affect the operation with our CCU.

10 - SPRINGFIELD MODELS MAGAZINE INTERCHANGEABILITY

Unlike Glock and 1911 pistols, XD magazines are not interchangeable between frames. This means, for example, that if you have an XD 40S&W pistol, you cannot purchase a CCU made for 9mm and use a 9mm XD magazine. The caliber of the XD pistol, as purchased, is the only caliber of CCU that will function with it.

11 - SPRINGFIELD FEED RAMP

The Feed Ramp is placed in the XD/XDM lower. This item is necessary for proper feeding. The block is not actually attached to the lower - just sits there during assembly of the CCU upper. When the upper is in place the ramp is trapped. A small magnet keeps the ramp in place during assembly/disassembly. One comes with each XD/XD(M) Basic Unit.

12 - .45 SUPER

There is a difference in the regular configuration of the 1911 .45ACP CCU and the .45 Super configuration. Survival Outfitters offers the conversion at no cost when we make up your CCU. Since the external dimensions of the .45ACP case and the .45 Super case are classentical, a CCU properly configured for the 45 Super will handle either round. Many people choose to have their .45 ACP unit .45 Super ready. Any .45 ACP 1911 CCU ordered from us may be ordered configured for handling the 45 Super. Using the more powerful .45 Super takes full advantage of the CCU's potential.

13 - .35 Survivor

Survival Outfitters is currently working on a proprietary cartrclassge that may be fired in properly configured and rebarreled .45ACP guns. We will be offering this special chambering for the Mech Tech CCU. The cartrclassge is based on .45ACP case dimensions with .38 Super length, formed from .308 brass and necked down to 9MM. It will use standard .45ACP magazines. Think of it as a .357 SIG on steroclasss. Rollout date to be announced, and we will begin taking orders at that time.

14-